Market news
Show news:
All news

Currency news
Stock news
Raw news
24.06.2022 07:48
EUR/USD Price Analysis: Teases another attempt to cross 200-SMA hurdle above 1.0500
EUR/USD consolidates the biggest daily loss in a week after bouncing off short-term key supports.
50-SMA, five-week-old horizontal area appear to be strong supports.
Bulls need validation from 200-SMA to retake control.
EUR/USD holds onto the corrective pullback from the 50-SMA around 1.0525 during Friday's Asian session.
In doing so, the major currency pair also justifies Wednesday's rebound from the key horizontal support zone comprising multiple levels marked since mid-May.
Given the sluggish MACD signals and steady RSI, coupled with the quote's ability to recover from important supports, the EUR/USD pair is likely to run towards the 200-SMA hurdle surrounding 1.0585.
However, the quote's upside past 1.0585 will need to cross the weekly peak of 1.0600 and early June's low near 1.0630 to give control to buyers.
Meanwhile, the 50-SMA and aforementioned support area, respectively near 1.0495 and 1.0470-60, could challenge the EUR/USD bears.
During the pair's weakness past 1.0460, multiple troughs near 1.0400 could test the bears before directing them to the yearly low of 1.0349.
To sum up, EUR/USD signals corrective pullback but the buyers need validation from 200-SMA.
EUR/USD: Four-hour chart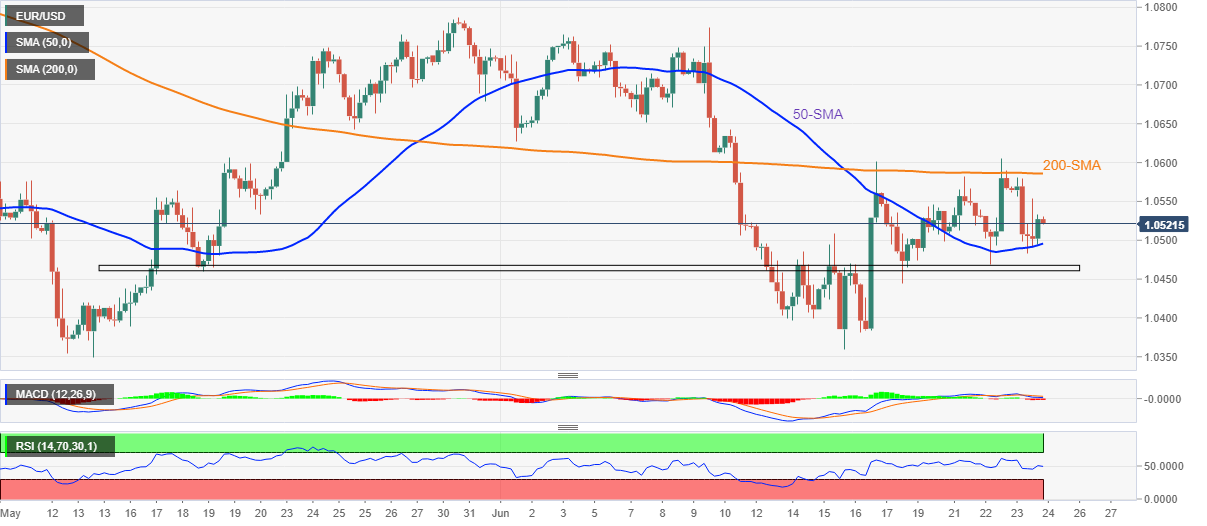 Trend: Further recovery expected
Keep up with latest Forex market news updates: Currencies, central banks, economic indicators for oil and gold trading – all you need to work effectively on Forex.
Forex is open 24 hours a day, 5 days a week (except national holidays), and it can be broken up to the following four regional markets: Australia and Oceania, Asia, Europe, and America. A Forex trading session opens at 23:00 GMT on Sunday in Japan and closes at 22:00 GMT on Friday in the USA.
Session
Financial Centres
UTC/GMT


Open

Close

EET


Open

Close

Local Time


Open

Close

Pacific
Wellington
19:00
04:00
22:00
07:00
22:00
07:00
Session
Financial Centres
UTC/GMT


Open

Close

EET


Open

Close

Local Time


Open

Close

Pacific

Sydney
21:00
06:00
00:00
09:00
00:00
09:00
Session
Financial Centres
UTC/GMT


Open

Close

EET


Open

Close

Local Time


Open

Close

Asian
Tokyo
23:00
08:00
02:00
11:00
02:00
11:00
Session
Financial Centres
UTC/GMT


Open

Close

EET


Open

Close

Local Time


Open

Close

Asian

Hong Kong, Singapore
00:00
09:00
03:00
12:00
03:00
12:00
Session
Financial Centres
UTC/GMT


Open

Close

EET


Open

Close

Local Time


Open

Close

European
Frankfurt, Zurich, Paris
06:00
15:00
09:00
18:00
9:00
18:00
Session
Financial Centres
UTC/GMT


Open

Close

EET


Open

Close

Local Time


Open

Closeе

European

London
07:00
16:00
10:00
19:00
10:00
19:00
Session
Financial Centres
UTC/GMT


Open

Close

EET


Open

Close

Local Time


Open

Close

American
New York
12:00
21:00
15:00
00:00
15:00
00:00
Session
Financial Centres
UTC/GMT


Open

Close

EET


Open

Close

Local Time


Open

Close

American

Chicago
13:00
22:00
16:00
01:00
16:00
01:00