Market news
18.05.2022 08:35
USD/CAD Price Analysis: Bears have the upper hand while taking on key support areas
USD/CAD is in the hands of the bears that are taking out key support structures.
Price imbalance mitigation between 1.2700 and 1.2900 would be expected to play out over the coming days.
USD/CAD is moving below critical support on the charts and the pair could be in for a deeper run towards structure lower down. The following illustrates the potential price path on various time frames for the foreseeable future.
USD/CAD daily chart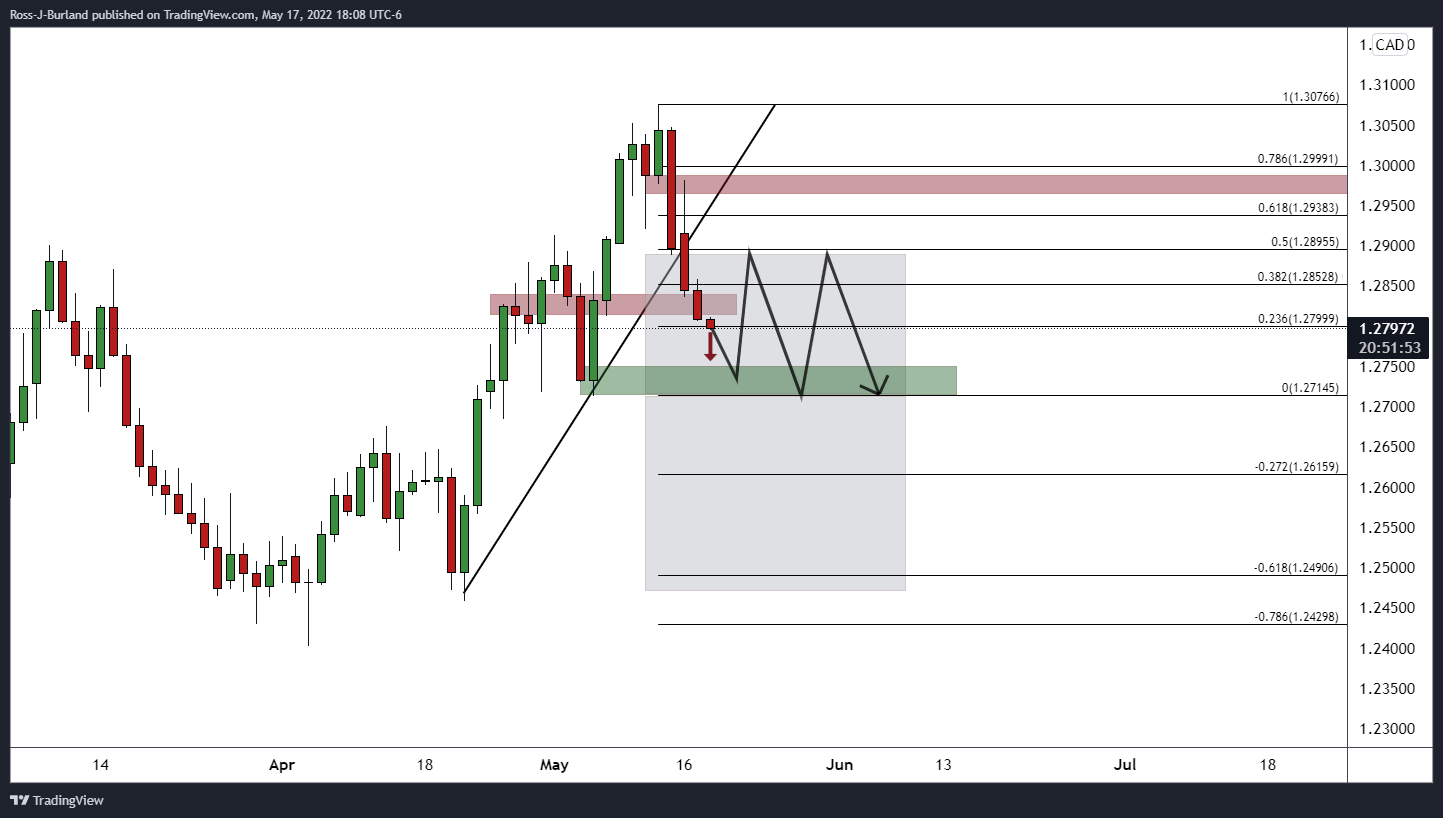 The price would be expected to meet with demand in the low 1.2700s and potentially mitigate upside territory and price imbalances over the course of the coming days between there and 1.2900 vs. the counter trendline.
USD/CAD H4 and H1 charts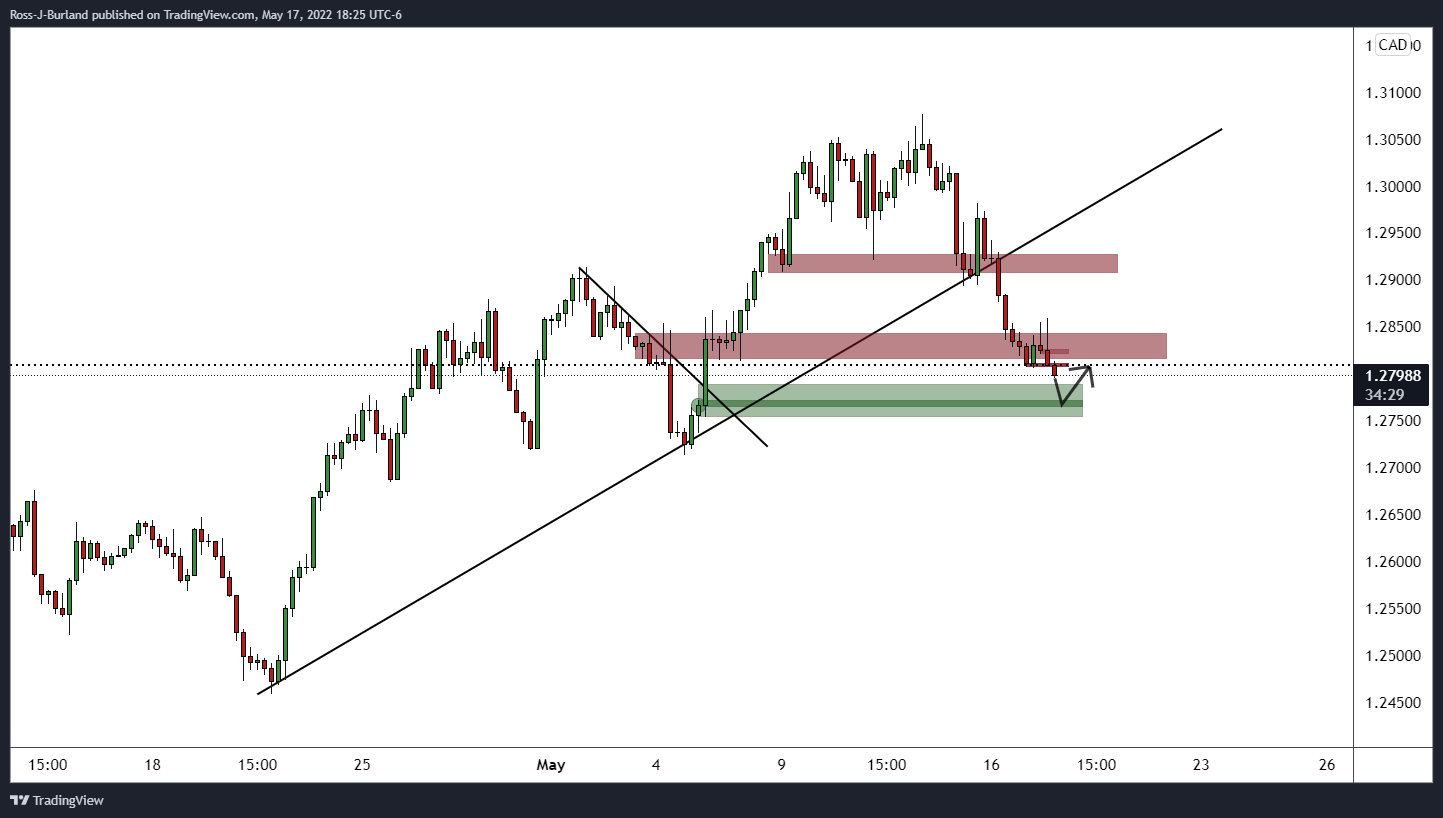 The price has melted all the way through four-hour support and is now embarking on a run even lower to test the next critical layer of support in the 1.2770s.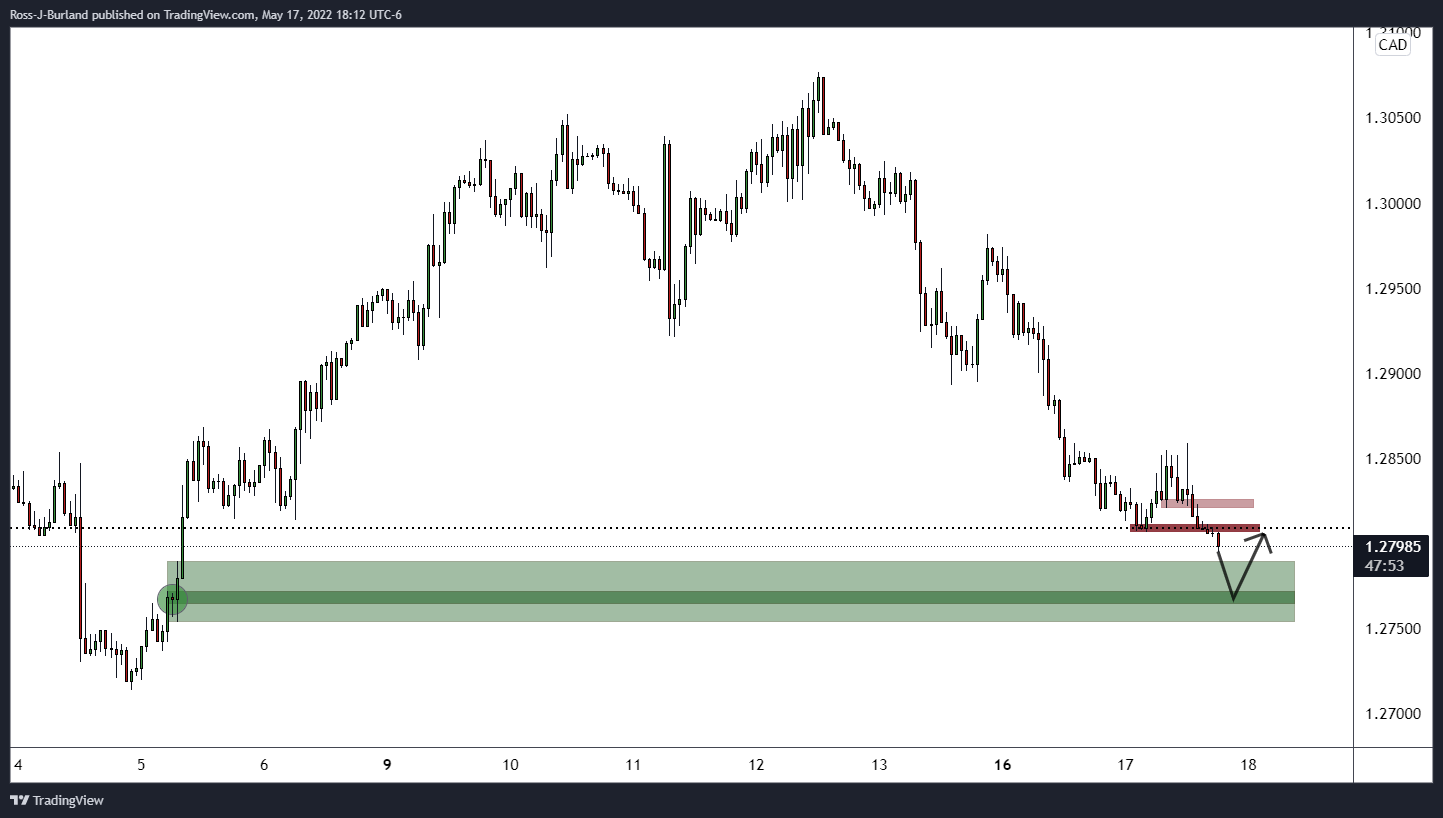 This is identified even clearer on the hourly chart.
Keep up with latest Forex market news updates: Currencies, central banks, economic indicators for oil and gold trading – all you need to work effectively on Forex.
Forex is open 24 hours a day, 5 days a week (except national holidays), and it can be broken up to the following four regional markets: Australia and Oceania, Asia, Europe, and America. A Forex trading session opens at 23:00 GMT on Sunday in Japan and closes at 22:00 GMT on Friday in the USA.
Session
Financial Centres
UTC/GMT


Open

Close

EET


Open

Close

Local Time


Open

Close

Pacific
Wellington
19:00
04:00
22:00
07:00
22:00
07:00
Session
Financial Centres
UTC/GMT


Open

Close

EET


Open

Close

Local Time


Open

Close

Pacific

Sydney
21:00
06:00
00:00
09:00
00:00
09:00
Session
Financial Centres
UTC/GMT


Open

Close

EET


Open

Close

Local Time


Open

Close

Asian
Tokyo
23:00
08:00
02:00
11:00
02:00
11:00
Session
Financial Centres
UTC/GMT


Open

Close

EET


Open

Close

Local Time


Open

Close

Asian

Hong Kong, Singapore
00:00
09:00
03:00
12:00
03:00
12:00
Session
Financial Centres
UTC/GMT


Open

Close

EET


Open

Close

Local Time


Open

Close

European
Frankfurt, Zurich, Paris
06:00
15:00
09:00
18:00
9:00
18:00
Session
Financial Centres
UTC/GMT


Open

Close

EET


Open

Close

Local Time


Open

Closeе

European

London
07:00
16:00
10:00
19:00
10:00
19:00
Session
Financial Centres
UTC/GMT


Open

Close

EET


Open

Close

Local Time


Open

Close

American
New York
12:00
21:00
15:00
00:00
15:00
00:00
Session
Financial Centres
UTC/GMT


Open

Close

EET


Open

Close

Local Time


Open

Close

American

Chicago
13:00
22:00
16:00
01:00
16:00
01:00