Market news
18.05.2022 03:32
GBPP/USD Price Analysis: Bears need to come out of their cave and hibernation
GBP/USD bulls are taking control at a key area of resistance.
If the bears do not come out of hibernation at this juncture, there are prospects of much higher levels.
As per the prior analysis, GBP/USD Price Analysis: Bears waiting to take a bite out of bullish correction, the price has rallied into the 61.8% Fibonacci ratio, extending the recovery from the lowest levels since May 2020.
GBP/USD prior analysis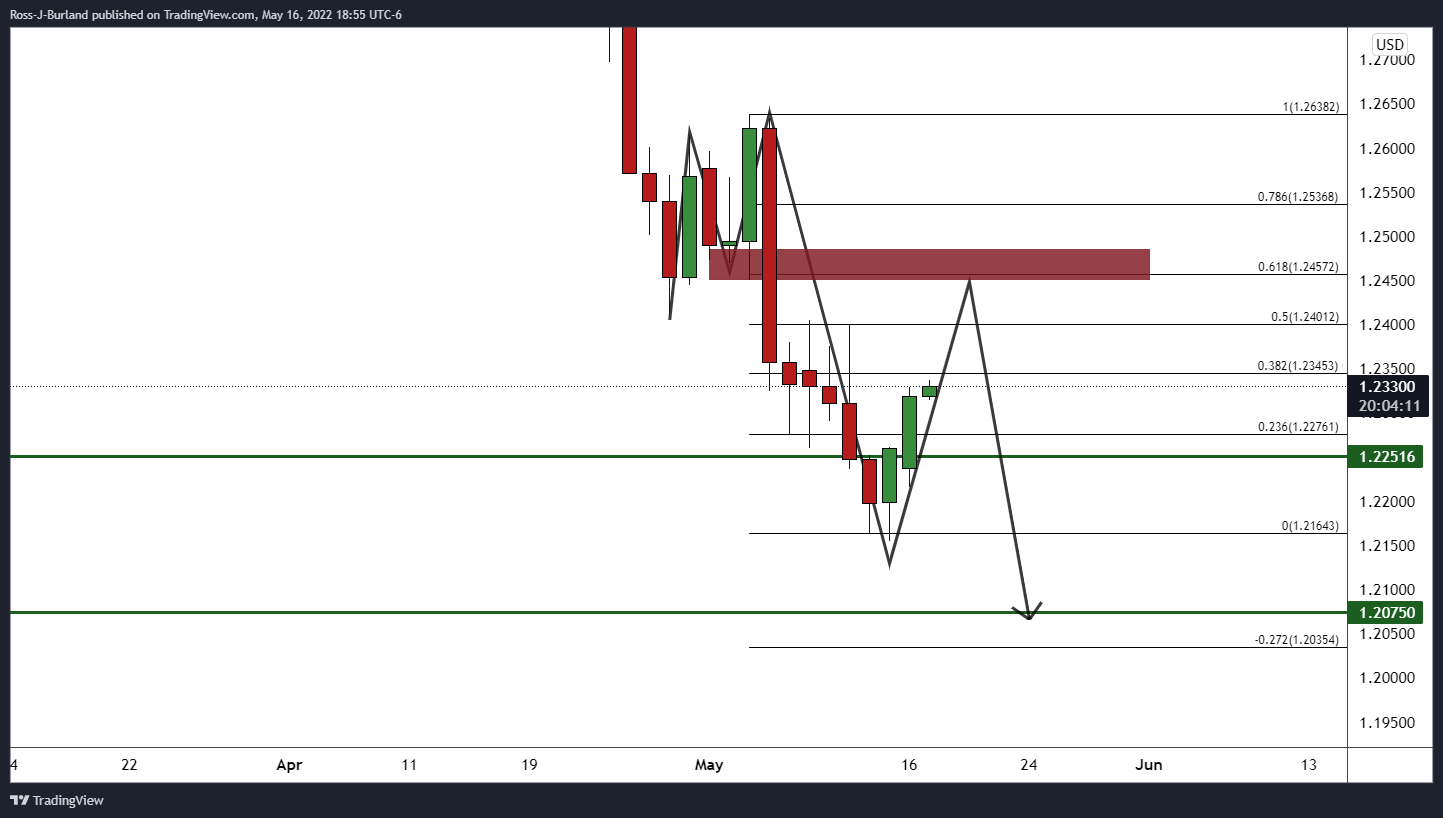 GBP/USD live market
The price has pierced the golden ratio and bulls will be looking for a daily close above to confirm to the market that they are in control, opening prospects for higher territories for the foreseeable future: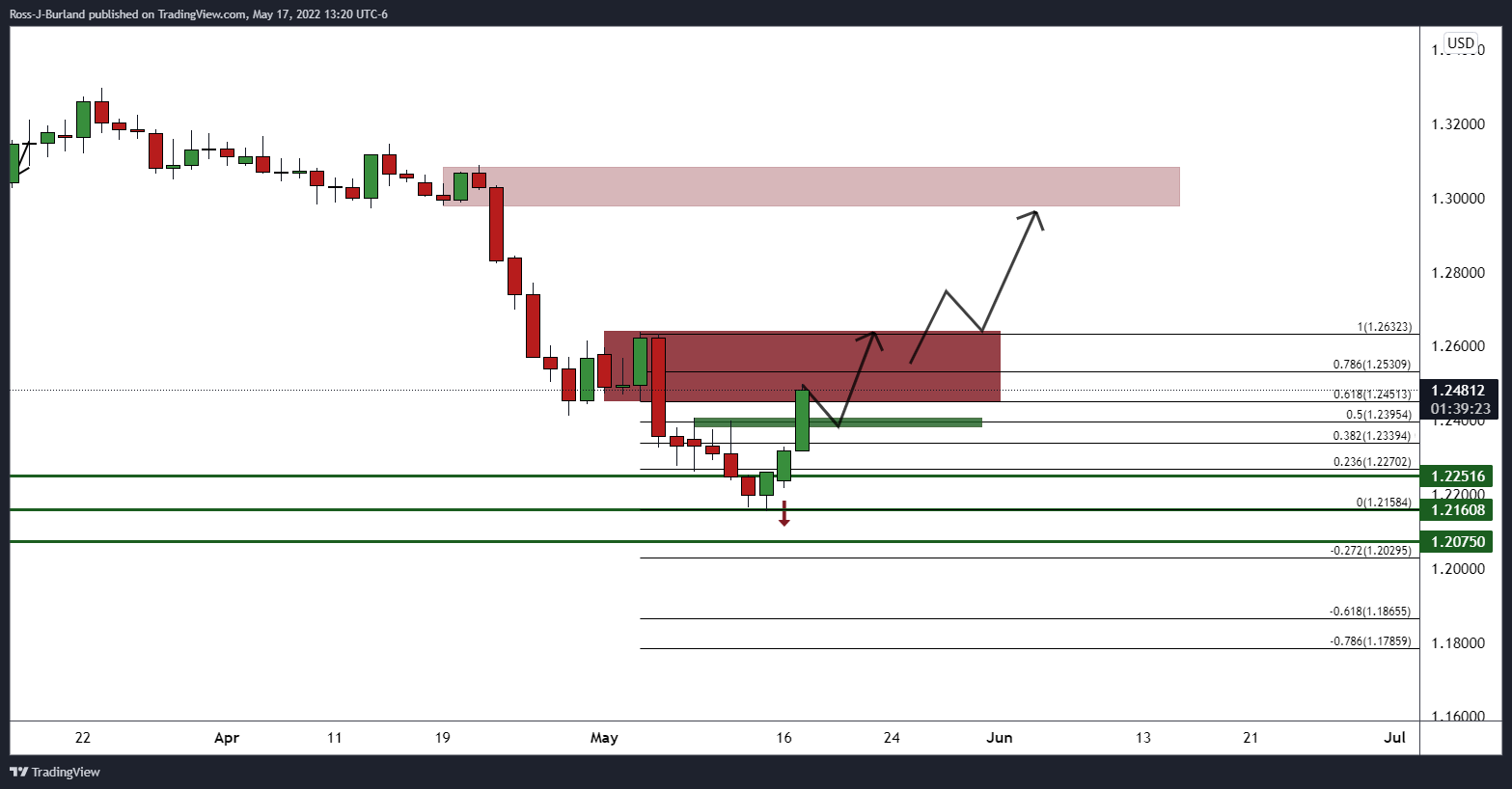 The price is meeting resistance around the neckline of the M-formation which could lead to a correction back to test the prior highs that would be expected to offer some initial support. If bears do not come out of hibernation at this point, then a break of the early May highs at 1.2638 will likely lead to a grind back towards 1.30 the figure.
Keep up with latest Forex market news updates: Currencies, central banks, economic indicators for oil and gold trading – all you need to work effectively on Forex.
Forex is open 24 hours a day, 5 days a week (except national holidays), and it can be broken up to the following four regional markets: Australia and Oceania, Asia, Europe, and America. A Forex trading session opens at 23:00 GMT on Sunday in Japan and closes at 22:00 GMT on Friday in the USA.
Session
Financial Centres
UTC/GMT


Open

Close

EET


Open

Close

Local Time


Open

Close

Pacific
Wellington
19:00
04:00
22:00
07:00
22:00
07:00
Session
Financial Centres
UTC/GMT


Open

Close

EET


Open

Close

Local Time


Open

Close

Pacific

Sydney
21:00
06:00
00:00
09:00
00:00
09:00
Session
Financial Centres
UTC/GMT


Open

Close

EET


Open

Close

Local Time


Open

Close

Asian
Tokyo
23:00
08:00
02:00
11:00
02:00
11:00
Session
Financial Centres
UTC/GMT


Open

Close

EET


Open

Close

Local Time


Open

Close

Asian

Hong Kong, Singapore
00:00
09:00
03:00
12:00
03:00
12:00
Session
Financial Centres
UTC/GMT


Open

Close

EET


Open

Close

Local Time


Open

Close

European
Frankfurt, Zurich, Paris
06:00
15:00
09:00
18:00
9:00
18:00
Session
Financial Centres
UTC/GMT


Open

Close

EET


Open

Close

Local Time


Open

Closeе

European

London
07:00
16:00
10:00
19:00
10:00
19:00
Session
Financial Centres
UTC/GMT


Open

Close

EET


Open

Close

Local Time


Open

Close

American
New York
12:00
21:00
15:00
00:00
15:00
00:00
Session
Financial Centres
UTC/GMT


Open

Close

EET


Open

Close

Local Time


Open

Close

American

Chicago
13:00
22:00
16:00
01:00
16:00
01:00