Market news
03.11.2021 21:56
S&P 500 Index opens in the red, energy stocks suffer heavy losses
Wall Street's main indexes opened modestly lower on Wednesday.
Falling crude oil prices continue to weigh on energy shares.
Fed will announce monetary policy decisions later in the session.
Major equity indexes in the US started the day with small losses on Wednesday as investors stay on the sidelines while waiting for the US Federal Reserve to announce monetary policy decisions.
As of writing, the S&P 500 was down 0.12% on the day at 4,625, the Dow Jones Industrial Average was losing 0.35% at 35,923 and the Nasdaq Composite was virtually unchanged at 15,655.
Among the 11 major S&P 500 sectors, the Energy Index is down more than 1% pressured by a more-than-1% decline witnessed in US crude oil prices. On the other hand, the Consumer Discretionary Index is up 0.4% as the biggest gainer after the opening bell.
S&P 500 chart (daily)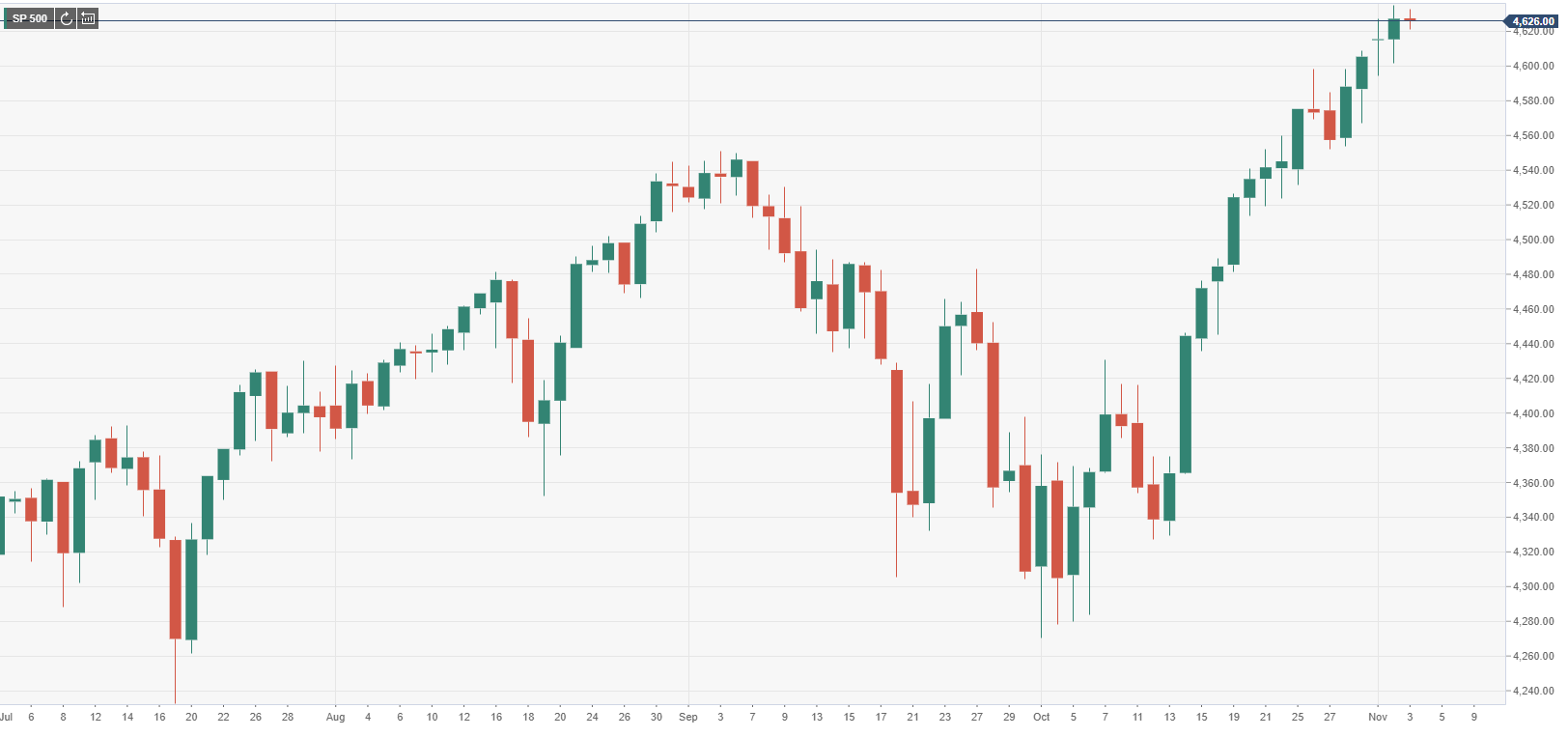 Keep up with latest Forex market news updates: Currencies, central banks, economic indicators for oil and gold trading – all you need to work effectively on Forex.
Forex is open 24 hours a day, 5 days a week (except national holidays), and it can be broken up to the following four regional markets: Australia and Oceania, Asia, Europe, and America. A Forex trading session opens at 23:00 GMT on Sunday in Japan and closes at 22:00 GMT on Friday in the USA.
Session
Financial Centres
UTC/GMT


Open

Close

EET


Open

Close

Local Time


Open

Close

Pacific
Wellington
19:00
04:00
22:00
07:00
22:00
07:00
Session
Financial Centres
UTC/GMT


Open

Close

EET


Open

Close

Local Time


Open

Close

Pacific

Sydney
21:00
06:00
00:00
09:00
00:00
09:00
Session
Financial Centres
UTC/GMT


Open

Close

EET


Open

Close

Local Time


Open

Close

Asian
Tokyo
23:00
08:00
02:00
11:00
02:00
11:00
Session
Financial Centres
UTC/GMT


Open

Close

EET


Open

Close

Local Time


Open

Close

Asian

Hong Kong, Singapore
00:00
09:00
03:00
12:00
03:00
12:00
Session
Financial Centres
UTC/GMT


Open

Close

EET


Open

Close

Local Time


Open

Close

European
Frankfurt, Zurich, Paris
06:00
15:00
09:00
18:00
9:00
18:00
Session
Financial Centres
UTC/GMT


Open

Close

EET


Open

Close

Local Time


Open

Closeе

European

London
07:00
16:00
10:00
19:00
10:00
19:00
Session
Financial Centres
UTC/GMT


Open

Close

EET


Open

Close

Local Time


Open

Close

American
New York
12:00
21:00
15:00
00:00
15:00
00:00
Session
Financial Centres
UTC/GMT


Open

Close

EET


Open

Close

Local Time


Open

Close

American

Chicago
13:00
22:00
16:00
01:00
16:00
01:00