Market news
03.11.2021 18:53
USD/TRY extends the upside to 9.7500, deflates afterwards
USD/TRY adds to Tuesday's gains and approaches 9.80.
Turkey's CPI rose less than expected in October.
Unconfirmed rumours regarding Erdogan's death/severe illness re-surfaced.
The Turkish lira extends the bearish note for the second session in a row and pushes USD/TRY to the 9.75 region on Wednesday.
USD/TRY climbs to new multi-day highs
USD/TRY is up for the second straight session and now trades at shouting distance from the all-time peak near 9.85 recorded on October 25.
The re-emergence of rumours regarding President Erdogan's death or severe illness condition seems to be adding extra pressure on the Turkish currency. It is worth noting, however, that these rumours are not new to the markets and that they remain unconfirmed.
On the domestic backyard, inflation in Turkey extended the uptrend in October, this time showing consumer prices rose 19.89% vs. the same month of 2020, a tad below forecasts for a +20.0% reading. On a monthly basis, the CPI rose 2.39%. Further data saw Producer Prices rising 5.24% inter-month and 46.31% over the last twelve months.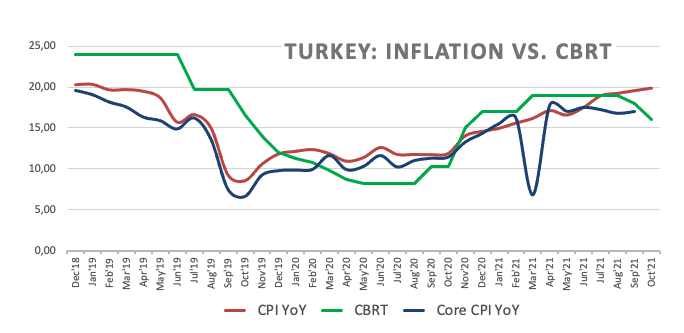 USD/TRY key levels
So far, the pair is gaining 0.66% at 9.6634 and a drop below 9.4128 (weekly low Oct.26) would aim for 9.3386 (20-day SMA) and finally 9.1965 (weekly low Oct.21). On the other hand, the next up barrier lines up at 9.8395 (all-time high Oct.25) followed by 10.0000 (psychological level).
Keep up with latest Forex market news updates: Currencies, central banks, economic indicators for oil and gold trading – all you need to work effectively on Forex.
Forex is open 24 hours a day, 5 days a week (except national holidays), and it can be broken up to the following four regional markets: Australia and Oceania, Asia, Europe, and America. A Forex trading session opens at 23:00 GMT on Sunday in Japan and closes at 22:00 GMT on Friday in the USA.
Session
Financial Centres
UTC/GMT


Open

Close

EET


Open

Close

Local Time


Open

Close

Pacific
Wellington
19:00
04:00
22:00
07:00
22:00
07:00
Session
Financial Centres
UTC/GMT


Open

Close

EET


Open

Close

Local Time


Open

Close

Pacific

Sydney
21:00
06:00
00:00
09:00
00:00
09:00
Session
Financial Centres
UTC/GMT


Open

Close

EET


Open

Close

Local Time


Open

Close

Asian
Tokyo
23:00
08:00
02:00
11:00
02:00
11:00
Session
Financial Centres
UTC/GMT


Open

Close

EET


Open

Close

Local Time


Open

Close

Asian

Hong Kong, Singapore
00:00
09:00
03:00
12:00
03:00
12:00
Session
Financial Centres
UTC/GMT


Open

Close

EET


Open

Close

Local Time


Open

Close

European
Frankfurt, Zurich, Paris
06:00
15:00
09:00
18:00
9:00
18:00
Session
Financial Centres
UTC/GMT


Open

Close

EET


Open

Close

Local Time


Open

Closeе

European

London
07:00
16:00
10:00
19:00
10:00
19:00
Session
Financial Centres
UTC/GMT


Open

Close

EET


Open

Close

Local Time


Open

Close

American
New York
12:00
21:00
15:00
00:00
15:00
00:00
Session
Financial Centres
UTC/GMT


Open

Close

EET


Open

Close

Local Time


Open

Close

American

Chicago
13:00
22:00
16:00
01:00
16:00
01:00