Market news
03.11.2021 14:18
Crude Oil Futures: Scope for extra losses
CME Group's flash data for crude oil futures markets noted traders added nearly 3.5K contracts to their open interest positions on Tuesday for the first time after eight consecutive daily pullbacks. Volume, instead, went down for the second session in a row, this time by around 46.7K contracts.
WTI: Next support comes at $80.60
Tuesday's retracement in prices of the barrel of the West Texas Intermediate was accompanied by rising open interest, which is indicative that further decline remains in the pipeline at least in the very near term. Against this, recent lows in the $80.60 region emerge as the next contention area for the time being.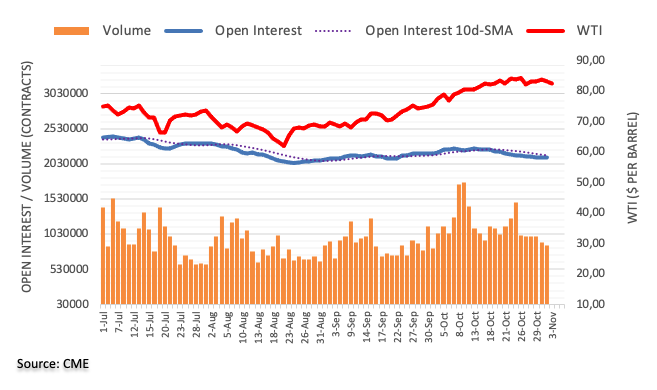 Keep up with latest Forex market news updates: Currencies, central banks, economic indicators for oil and gold trading – all you need to work effectively on Forex.
Forex is open 24 hours a day, 5 days a week (except national holidays), and it can be broken up to the following four regional markets: Australia and Oceania, Asia, Europe, and America. A Forex trading session opens at 23:00 GMT on Sunday in Japan and closes at 22:00 GMT on Friday in the USA.
Session
Financial Centres
UTC/GMT


Open

Close

EET


Open

Close

Local Time


Open

Close

Pacific
Wellington
19:00
04:00
22:00
07:00
22:00
07:00
Session
Financial Centres
UTC/GMT


Open

Close

EET


Open

Close

Local Time


Open

Close

Pacific

Sydney
21:00
06:00
00:00
09:00
00:00
09:00
Session
Financial Centres
UTC/GMT


Open

Close

EET


Open

Close

Local Time


Open

Close

Asian
Tokyo
23:00
08:00
02:00
11:00
02:00
11:00
Session
Financial Centres
UTC/GMT


Open

Close

EET


Open

Close

Local Time


Open

Close

Asian

Hong Kong, Singapore
00:00
09:00
03:00
12:00
03:00
12:00
Session
Financial Centres
UTC/GMT


Open

Close

EET


Open

Close

Local Time


Open

Close

European
Frankfurt, Zurich, Paris
06:00
15:00
09:00
18:00
9:00
18:00
Session
Financial Centres
UTC/GMT


Open

Close

EET


Open

Close

Local Time


Open

Closeе

European

London
07:00
16:00
10:00
19:00
10:00
19:00
Session
Financial Centres
UTC/GMT


Open

Close

EET


Open

Close

Local Time


Open

Close

American
New York
12:00
21:00
15:00
00:00
15:00
00:00
Session
Financial Centres
UTC/GMT


Open

Close

EET


Open

Close

Local Time


Open

Close

American

Chicago
13:00
22:00
16:00
01:00
16:00
01:00