Market news
03.11.2021 13:29
USD/INR Price News: Indian rupee ignores options market signal to refresh monthly top ahead of Fed
USD/INR picks up bids after renewing multi-day low.
Risk reversals jump the most since October 06.
Two-month-old support line break favor bears amid descending RSI line.
USD/INR consolidates intraday losses around a one-month low, picking up bids to 74.61 heading into Wednesday's European session.
In doing so, the Indian rupee (INR) pair justifies the previous day's downside break of a two-month-old support line, now resistance around 74.80.
However, the options market signal for the pair turns bullish of late. That said, a measure of the spread between call and put prices, known as the Risk Reversal (RR), jumps the most in a month to +0.125 level following a two-day fall.
The aforementioned mismatch between the technical signals and options market clues precedes the US Federal Reserve's (Fed) key verdict on tapering of bond purchases, likely to be announced today.
Should the Fed propels the US dollar, the latest rebound could bounce back beyond the previous support of around 74.80 to regain the 75.00, comprising July's top.
On the contrary, a 50-day EMA level of 74.51 holds the key to further USD/INR weakness towards the 75.00 psychological magnet, including 200-day EMA.
USD/INR: Daily chart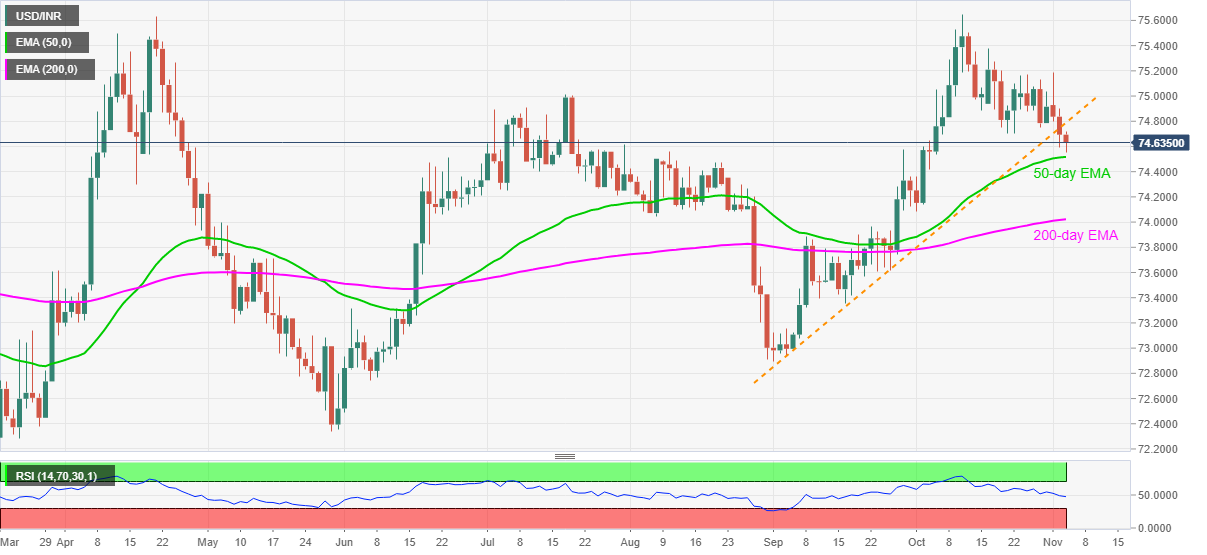 Trend: Further weakness expected
Keep up with latest Forex market news updates: Currencies, central banks, economic indicators for oil and gold trading – all you need to work effectively on Forex.
Forex is open 24 hours a day, 5 days a week (except national holidays), and it can be broken up to the following four regional markets: Australia and Oceania, Asia, Europe, and America. A Forex trading session opens at 23:00 GMT on Sunday in Japan and closes at 22:00 GMT on Friday in the USA.
Session
Financial Centres
UTC/GMT


Open

Close

EET


Open

Close

Local Time


Open

Close

Pacific
Wellington
19:00
04:00
22:00
07:00
22:00
07:00
Session
Financial Centres
UTC/GMT


Open

Close

EET


Open

Close

Local Time


Open

Close

Pacific

Sydney
21:00
06:00
00:00
09:00
00:00
09:00
Session
Financial Centres
UTC/GMT


Open

Close

EET


Open

Close

Local Time


Open

Close

Asian
Tokyo
23:00
08:00
02:00
11:00
02:00
11:00
Session
Financial Centres
UTC/GMT


Open

Close

EET


Open

Close

Local Time


Open

Close

Asian

Hong Kong, Singapore
00:00
09:00
03:00
12:00
03:00
12:00
Session
Financial Centres
UTC/GMT


Open

Close

EET


Open

Close

Local Time


Open

Close

European
Frankfurt, Zurich, Paris
06:00
15:00
09:00
18:00
9:00
18:00
Session
Financial Centres
UTC/GMT


Open

Close

EET


Open

Close

Local Time


Open

Closeе

European

London
07:00
16:00
10:00
19:00
10:00
19:00
Session
Financial Centres
UTC/GMT


Open

Close

EET


Open

Close

Local Time


Open

Close

American
New York
12:00
21:00
15:00
00:00
15:00
00:00
Session
Financial Centres
UTC/GMT


Open

Close

EET


Open

Close

Local Time


Open

Close

American

Chicago
13:00
22:00
16:00
01:00
16:00
01:00