Market news
03.11.2021 12:11
AUD/USD Price Analysis: Bears take a breather on the way to 0.7380
AUD/USD stays range-bound following the biggest daily slump in five months.
Rising wedge confirmation, steady declines below 0.7460 support convergence keep sellers hopeful.
Short-term horizontal support area, 200-SMA put a floor under the prices amid oversold RSI.
AUD/USD consolidates the RBA-led big slump within an 18-pip trading range, picking up bids near 0.7438 heading into the European session on Wednesday.
Although oversold RSI conditions probe the immediate downside of the Aussie pair, the bears remain hopeful of breaking the key technical supports the previous day.
After confirming a rising wedge bearish chart pattern on the RBA's verdict to give up the bond yield targeting, the Aussie pair also slipped below a convergence of 100-SMA and an ascending trend line from September 29, around 0.7460.
That said, the quote remains on the bear's radar until crossing the 0.7460 support-turned-resistance. Even so, the lower line of the wedge, around 0.7500 adds to the upside filters before recalling the AUD/USD buyers.
In a case where the pair stays strong beyond the 0.7500 threshold, the upper line of the stated bearish formation and October's peak will lure the bulls around 0.7560.
Alternatively, three-week-old horizontal support, near 0.7380, seems live on the AUD/USD pair seller's radar but any further weakness will be challenged by the 200-SMA level around 0.7360.
AUD/USD: Four-hour chart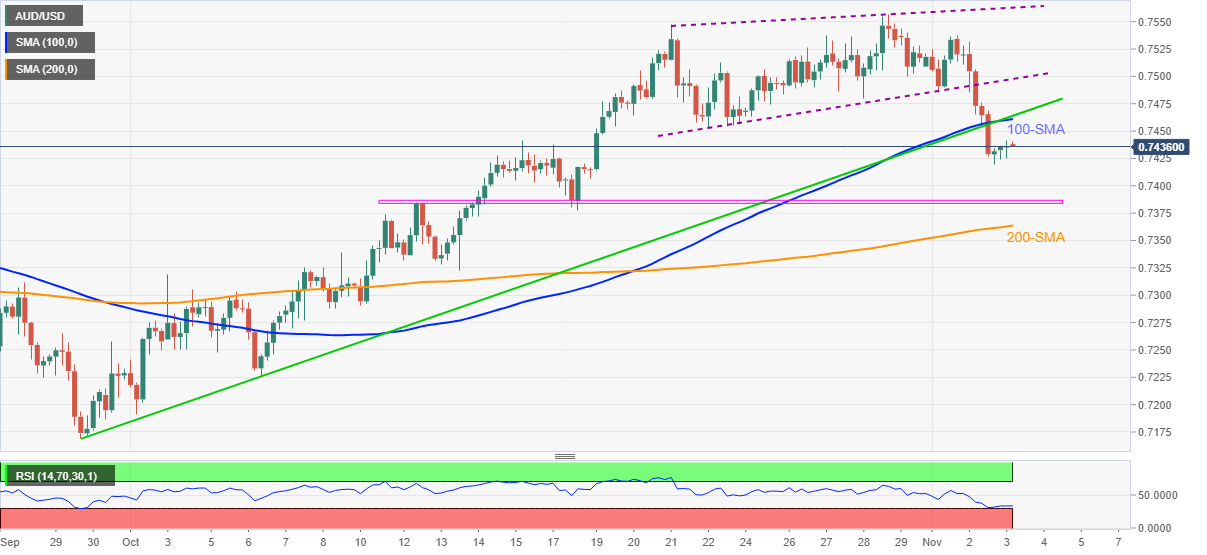 Trend: Bearish
Keep up with latest Forex market news updates: Currencies, central banks, economic indicators for oil and gold trading – all you need to work effectively on Forex.
Forex is open 24 hours a day, 5 days a week (except national holidays), and it can be broken up to the following four regional markets: Australia and Oceania, Asia, Europe, and America. A Forex trading session opens at 23:00 GMT on Sunday in Japan and closes at 22:00 GMT on Friday in the USA.
Session
Financial Centres
UTC/GMT


Open

Close

EET


Open

Close

Local Time


Open

Close

Pacific
Wellington
19:00
04:00
22:00
07:00
22:00
07:00
Session
Financial Centres
UTC/GMT


Open

Close

EET


Open

Close

Local Time


Open

Close

Pacific

Sydney
21:00
06:00
00:00
09:00
00:00
09:00
Session
Financial Centres
UTC/GMT


Open

Close

EET


Open

Close

Local Time


Open

Close

Asian
Tokyo
23:00
08:00
02:00
11:00
02:00
11:00
Session
Financial Centres
UTC/GMT


Open

Close

EET


Open

Close

Local Time


Open

Close

Asian

Hong Kong, Singapore
00:00
09:00
03:00
12:00
03:00
12:00
Session
Financial Centres
UTC/GMT


Open

Close

EET


Open

Close

Local Time


Open

Close

European
Frankfurt, Zurich, Paris
06:00
15:00
09:00
18:00
9:00
18:00
Session
Financial Centres
UTC/GMT


Open

Close

EET


Open

Close

Local Time


Open

Closeе

European

London
07:00
16:00
10:00
19:00
10:00
19:00
Session
Financial Centres
UTC/GMT


Open

Close

EET


Open

Close

Local Time


Open

Close

American
New York
12:00
21:00
15:00
00:00
15:00
00:00
Session
Financial Centres
UTC/GMT


Open

Close

EET


Open

Close

Local Time


Open

Close

American

Chicago
13:00
22:00
16:00
01:00
16:00
01:00