Market news
03.11.2021 00:05
Silver Price Analysis: XAG/USD drops more than 2.5%, to the $23.35 area
Silver having the worst day since late September amid a stronger USD ahead of FOMC.
XAG/USD is back below the 20-day moving average.
Silver (XAG/USD) is falling significantly on Tuesdays, even as gold prices drop only marginally. Recently it bottomed at $23.38, the lowest level since October 19.
The metal remains near the lows, under pressure and falling 2.61% during the day, the worst day since September. The sharp decline pushed the price under the 20-day moving average and is testing the 55-day.
The extension of the reversal from levels near $25.00 that reached two weeks ago deteriorated the technical outlook. Below $23.40, the next support is seen at $23.15 and then $22.80.
On the upside, $23.75 is the immediate resistance, followed by $23.95 and $24.10. A recovery above $24.00 should alleviate the bearish momentum and could even be a sign of more gains ahead.
Despite current technical factors, Wednesday's FOMC meeting could be a market mover triggering sharp moves in metals, particularly gold. The yellow metal is under $1,790/oz, down just 0.26%.
XAG/USD daily chart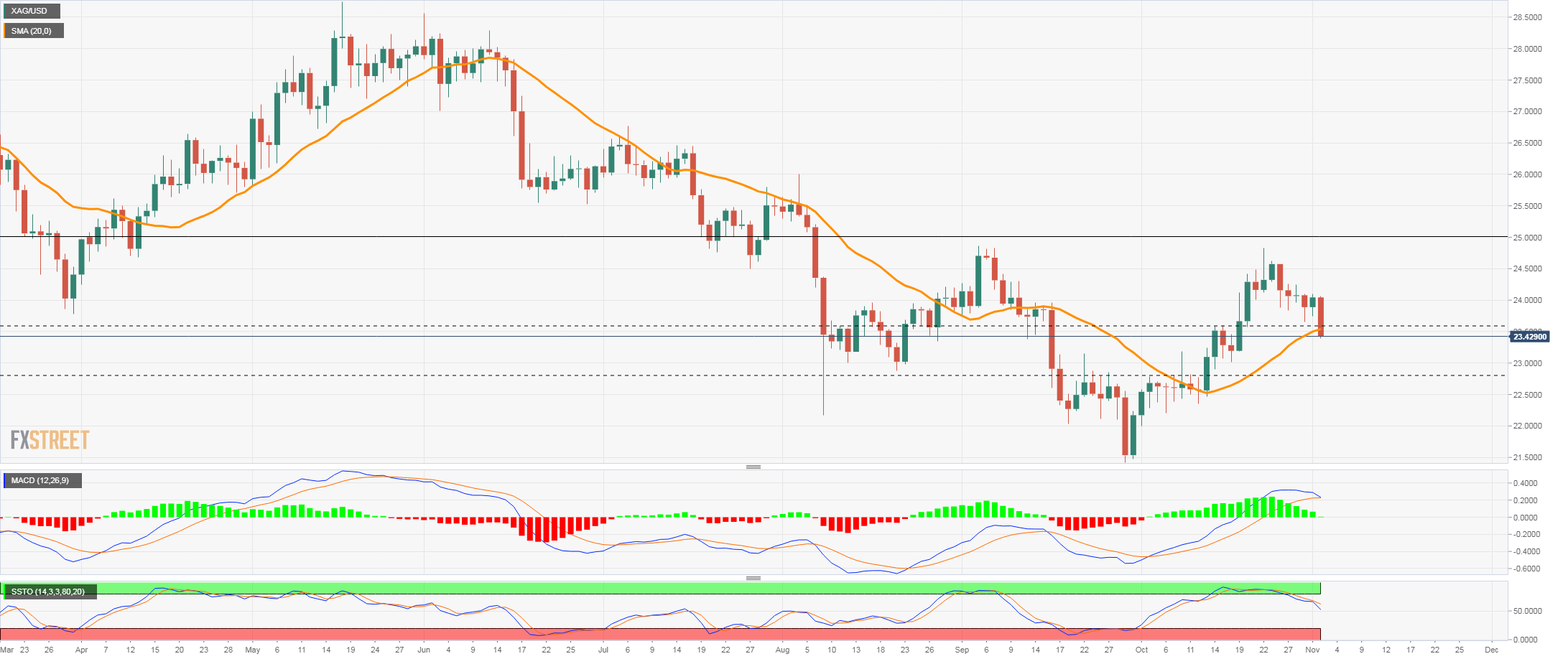 Keep up with latest Forex market news updates: Currencies, central banks, economic indicators for oil and gold trading – all you need to work effectively on Forex.
Forex is open 24 hours a day, 5 days a week (except national holidays), and it can be broken up to the following four regional markets: Australia and Oceania, Asia, Europe, and America. A Forex trading session opens at 23:00 GMT on Sunday in Japan and closes at 22:00 GMT on Friday in the USA.
Session
Financial Centres
UTC/GMT


Open

Close

EET


Open

Close

Local Time


Open

Close

Pacific
Wellington
19:00
04:00
22:00
07:00
22:00
07:00
Session
Financial Centres
UTC/GMT


Open

Close

EET


Open

Close

Local Time


Open

Close

Pacific

Sydney
21:00
06:00
00:00
09:00
00:00
09:00
Session
Financial Centres
UTC/GMT


Open

Close

EET


Open

Close

Local Time


Open

Close

Asian
Tokyo
23:00
08:00
02:00
11:00
02:00
11:00
Session
Financial Centres
UTC/GMT


Open

Close

EET


Open

Close

Local Time


Open

Close

Asian

Hong Kong, Singapore
00:00
09:00
03:00
12:00
03:00
12:00
Session
Financial Centres
UTC/GMT


Open

Close

EET


Open

Close

Local Time


Open

Close

European
Frankfurt, Zurich, Paris
06:00
15:00
09:00
18:00
9:00
18:00
Session
Financial Centres
UTC/GMT


Open

Close

EET


Open

Close

Local Time


Open

Closeе

European

London
07:00
16:00
10:00
19:00
10:00
19:00
Session
Financial Centres
UTC/GMT


Open

Close

EET


Open

Close

Local Time


Open

Close

American
New York
12:00
21:00
15:00
00:00
15:00
00:00
Session
Financial Centres
UTC/GMT


Open

Close

EET


Open

Close

Local Time


Open

Close

American

Chicago
13:00
22:00
16:00
01:00
16:00
01:00